Shape
In general terms, the overall shape of your table should be the first consideration. Once you've decided on a shape, the materials and style may follow. We have provided a pair of examples for each shape, to emphasize the wild variation within each category.
Rectangular
As the most popular table shape, rectangle comprises the most populated category. Being the most functional shape allows for a playfulness of style that spawns a wide variety of tables.
Square
The square is the simplest table design. Four legs, equidistant from each other. These are perfect for four diners and compact spaces.  ultra-minimalist design
Round
Round tables allow for shifting seating options, and often hold features such as hinged edges or a leaf, which turns it into an oval shape.
Central lazy Susan built-in.
Oval
The oval design is a popular choice, allowing for the sensuous curves of a round table, but with a lengthier surface area providing more space for diners.
Our second freeform example stands a rounded triangle shape in contemporary glass and metal construction, with lengthy sides for two diners each.
Freeform
The idea of freeform design is that there is no concrete definition. This category comprises any tables that do not fit within standard shapes. Our first example stands in a rotated L-shape, with a pair of standard legs supporting opposite a full slab.
Top Material
The tabletop is where you'll interact most directly and often with your dining table. It is, of course, the most important element of any table's construction. When you're happy with its appearance, you can forego placing a tablecloth. While many designs are holistic, with the same material used throughout, some tables feature a different top material than the frame build, so we are focusing on this aspect for our material category
Style
The final element of important consideration when shopping for a new dining table is style. Here you will choose the visual language of your new furniture. Style is the way your
Traditional
Traditional style is still the most common you'll find when shopping for dining tables. With elegantly carved wood, detailed textures, and rich proportions, this style is timeless and powerful.
Modern
Modern style evokes a graceful mixture of utility and aesthetics that flourished beginning in the 20th century, with clean lines and sharp angles framing unfussy surfaces. This table brings a thin, airy element to any room.
Rustic
Rustic style utilizes unpainted wood in more natural, hand-carved shapes for a simplistic, back-to-nature feel that is popular in cabins and cottages across the country. Our featured example has a rounded log-style frame beneath a soft edged flat table top.
Industrial
Industrial style is meant to convey the look and feel of factory machinery and tools, with naked metal and bold, strong wood shapes paired into a purposeful look. Our example table features a crossed I-beam frame and natural hardwood tabletop.
Shaker
Shaker furniture is defined by a direct focus on simplicity and utility, bereft of unnecessary embellishment. Our example table in natural wood tone features a solid rectangular construction, simple lines, and a matching set of dining room chairs.
Contemporary
Contemporary design can appear in a wide variety of looks, so long as they meaningfully present an "of the now," up to date appearance. Contemporary tables can be found in every type of material and every shape configuration. Our example features an all white circular construction from the base up to the tabletop.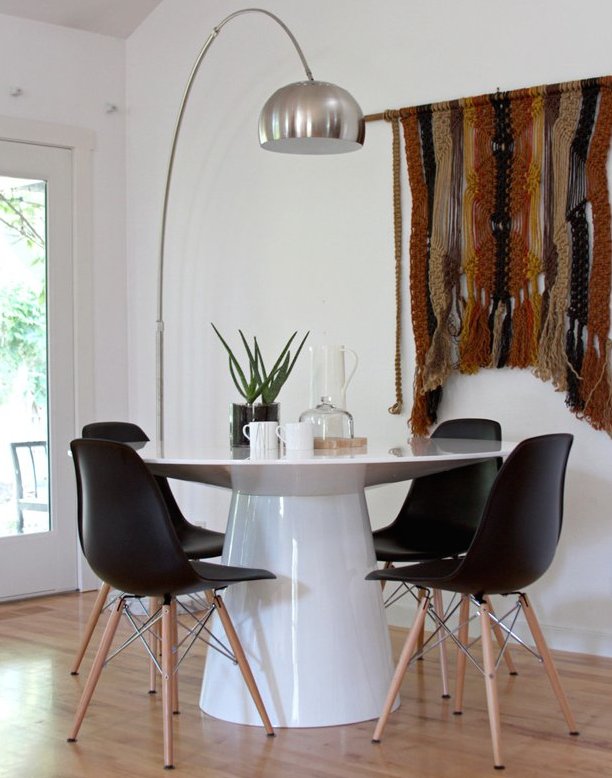 Capacity
Dining room table capacity refers to how many people can comfortable be seated at the table.  As you can imagine, capacity varies considerably.
While you want to maximize seating capacity, you don't want to end up with a crammed dining room where nobody has any space to get in and out of their seat.
2 Person Dining Table
4 People
6 People
Types of Dining Table Bases
Below is an illustration showcasing 3 popular types of table legs.  The other type is a straight leg – whether straight round or straight square.