Furniture Industry Experts
Barstools & Dinettes strives to bring you the opportunity of choice and preference with the earned industry knowledge of custom, quality dining furniture in Raleigh! Our showroom is located at 8620 Glenwood Ave in Raleigh and has a display of over 450 different styles of stools and over 100 dinettes sets. Our furniture store in Raleigh employs an expert team of professionals with over 100 years combined experience in customizing wood and upholstered furniture in Raleigh. Our furniture store in Raleigh is known to be a destination worth visiting because of the ability to browse, borrow and buy the most unique, affordable and quality bar stools in Raleigh. We can assist you in determining the correct specs you need, your preferred stains, upholstery, wood type and more. At our furniture store in Raleigh, you will be able to work with our designers in the manufacturer's custom design center to build out your perfect piece of furniture that meets all your requirements.
---
---
Once you've made the leap, our professional delivery service include white glove, no contact delivery during Covid19 in Raleigh. Well built furniture usually does not require assembly, so transporting your new furniture in Raleigh requires special care. We will wrap your furniture in thick moving blankets and strategically place your item in our showroom's local delivery trucks. Your furniture is delivered to your home and set up by our local furniture delivery team, not an outside contractor. This is to ensure quality service throughout your entire experience with us.
We deliver to Wilmington, Wake Forest, Raleigh, Greensboro, Winston Salem and further.  Our in-house delivery service is of top notch.  We do no hire 3rd party movers or contract with the newest moving app technology.  These applications are better suited for quantity based furniture companies.  Like we strive to imply, Barstools and Dinettes is a quality based furniture company.  Because each furniture piece likely has at least one custom quality, we find it to be of utmost importance that you receive your furniture exactly how you custom ordered it.  You furniture piece does not go in a box truck full of boxes that get thrown around and tossed around in the truck.  No, Your furniture is wrapped with soft materials, positioned in our store owned delivery truck lined with soft materials and is carefully driven to your location of preference and carried in to the hope and placed where you want it.  Again, this furniture does not arrive flat in a box so we have to be careful how it's moved into the home between hallways, stairways, doorways and tight corners.  You want a team of professionals that care about your heirloom investment as much as you do.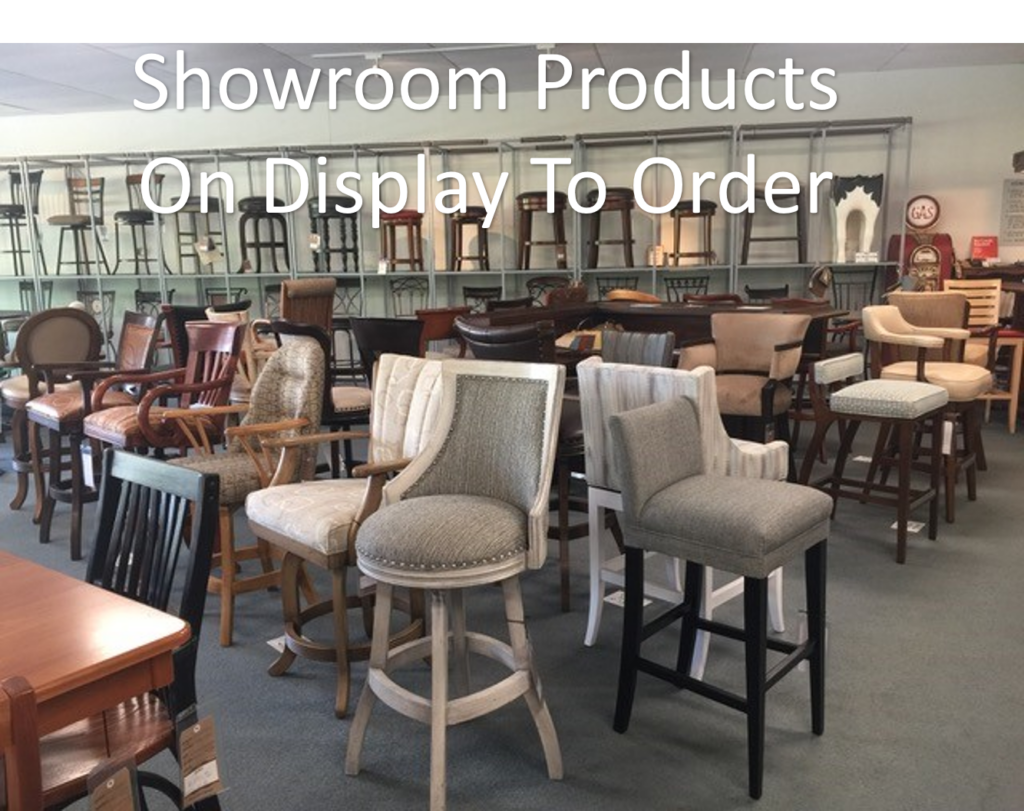 ---
we are here to educate and inform. Not influence or persuade. If you want help when shopping for quality heirloom furniture, we are here to offer it.
Why would you need a consultation for furniture design? Well, when you are buying not an accessory but rather a focal point and a staple to go within your home for as long as you have that home, you realize that you are adding to your home.  This piece of furniture is meant to last lifetimes.  So, you might want to have a good idea of what size furniture you need, what is comfortable to you and your family, what style you prefer and not what's trending right now, and even wood species or finishing colors, as the colors should go along with the paint on your walls.  Not the decoration on the walls.
We will guide you in how to decide on See our featured products. Consider styling your own buffet.   We now carry outdoor furniture. Outdoor furniture is a cinch with finch. Check out our dinette sets. We have over 20 manufacturers we work with. See our barstools on display or in our catalog.  See our Canadel collection here.