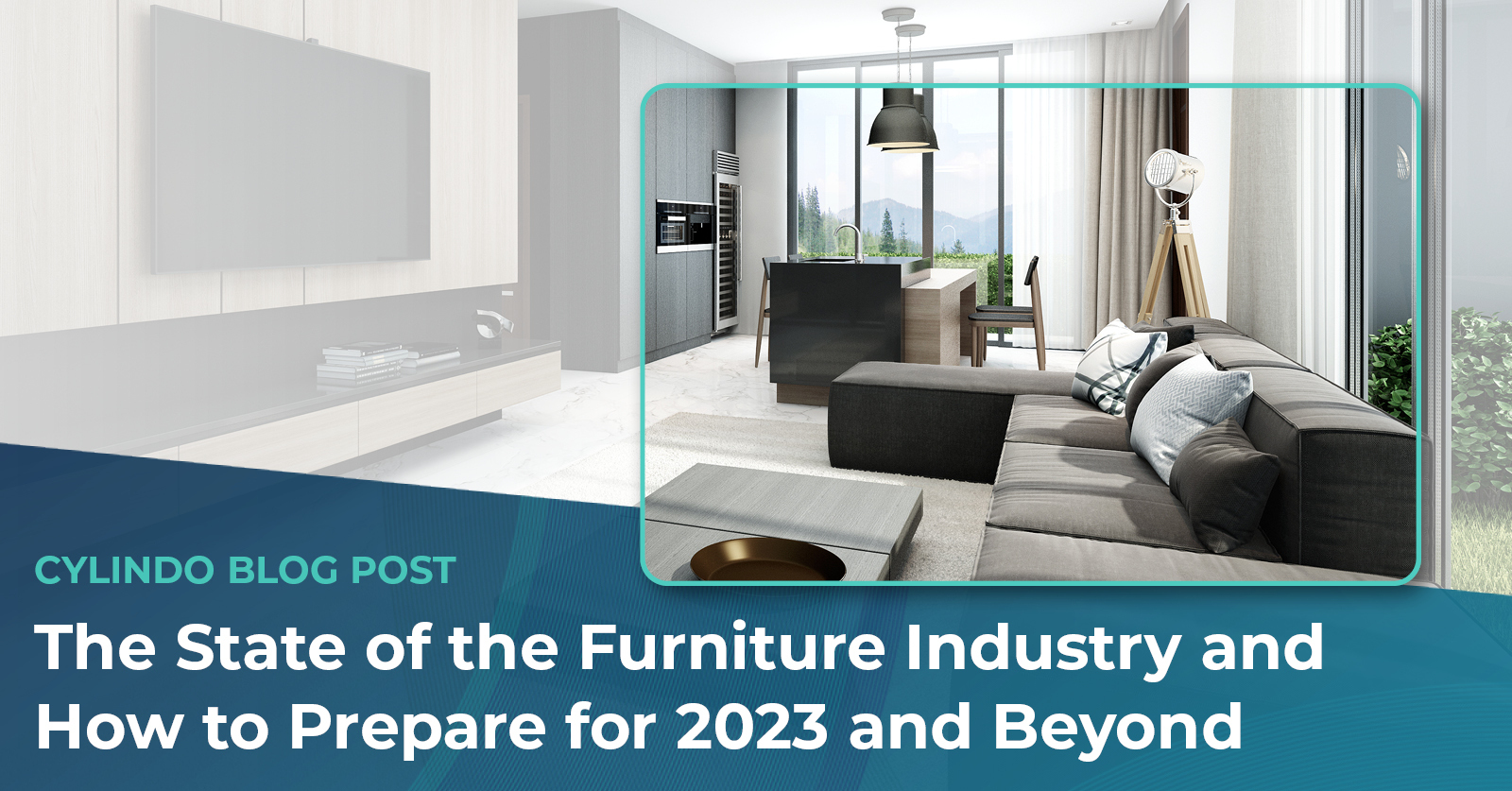 Furniture businesses have dealt with more change in the last two years than in the previous two decades.
The sharp rise in inflation and the persistent issues with global supply chains continue to add pressure on businesses. On top of that, the strong economic and social headwinds have a significant influence on consumer confidence.
To help you navigate the new business landscape, we took a closer look at the latest economic developments and analyzed the potential impact they could have on the furniture industry. Let's dive in.
Furniture industry outlook — inflation, inventory, and supply chain challenges
The past two years were marked by a tectonic shift in customer behavior. Customers have discovered that they like shopping online, but they're also going back to brick-and-mortar stores. They're traveling again, but they're continuing to spend money on sprucing up their homes.
And just when the dust started to settle, businesses faced a new set of challenges. From supply chain constraints to labor shortages, retailers navigated another turbulent year.
The past year has brought excitement in the furniture industry. According to Home Furnishings Business, traditional retailers witnessed a 21.8% increase in sales and 13.2% in profits.
But it wasn't all sunshine and roses. The industry faced serious challenges over the last 12 months — product availability and supply chain issues coupled with a lack of personnel to deliver the products to consumers brought many headaches for furniture retailers.
And after all the decades of holding back, furniture prices grew significantly. Between 2012 and 2020, prices for all consumer items in the U.S. grew 13.5%. Meanwhile, furniture prices fell 3.3% during the same period. Then in 2021, consumer item prices grew 7%, but we saw a significant 14% increase in furniture prices.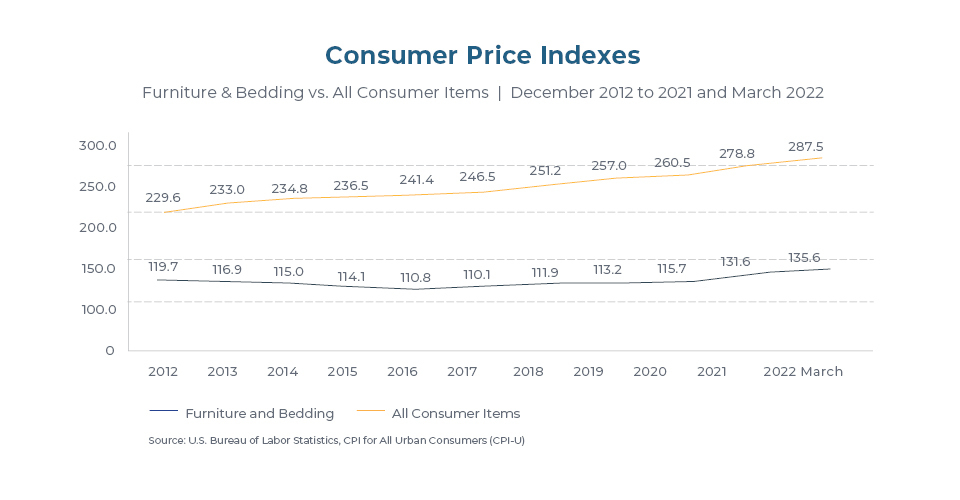 Meanwhile, the inflation rate for furnishings, household equipment, and routine household maintenance in the European Union (EU) reached 8.2% in August 2022, while for the euro area, the inflation rate was 7.4%, according to Statista. During this month, the inflation rate for the EU as a whole was 10.1%, the highest rate of inflation reported in this period.
Another persistent challenge in the industry is that retailers are still carrying way too much inventory. Business of Home reported that Target's levels are up 35% over a year ago, and Walmart is in a similar situation.
Supply chain bottlenecks collided with high demand in the past two years, and as a result, furniture businesses struggled to meet the increased appetite for household goods. But consumer spending has shifted in more recent months due to uncertainty on a global level, leaving retailers with excess inventory.
In August 2022, Bloomberg revealed that the amount of unsold furniture in inventory is 2.06 months, up from 1.43 months in the fall of 2020, setting a record for the furniture industry.
And yet prices have remained stubbornly high. Forecasters expected that since inventories are too big, prices should have declined. But that just hasn't happened. The reason behind this could be the fact that the industry was holding back on increasing prices for decades — so the recent transformation in retail gave them the opportunity to make a price adjustment.
Furniture e-commerce is on the rise
Consumers' shift to digital has accelerated dramatically — especially in the furniture industry. Unlike in the past, when online browsing was more like window shopping, today, most customers searching for furniture products online are ready to buy. Data from Searchmetrics shows that almost two-thirds (62.3%) of searches in the furniture sector are transactional.

According to Comscore Digital Commerce Measurement, in 2021, the furniture and appliances category was one of the top three growing categories in digital commerce in the U.S., with an 81% year-over-year increase in consumer spending.
The most interesting part is that online shopping is no longer only for digitally native customers. Research from Furniture Today shows that 58% of millennials, 49% of Gen X consumers, and 37% of baby boomers are likely to make their next furniture purchase on the internet.

The situation is similar in Europe, where furniture, home accessories, and gardening products remained the third most popular product category, ordered by 29% of online customers, according to data from Eurostat.

According to the Centre for Industrial Studies (CSIL) report Furniture Retailing in Europe, the European furniture market increased by 3% yearly. The decrease in 2020 was compensated in 2021 with a 10% growth, reaching almost €40 billion (at retail prices). In 2021, all the markets surpassed their 2019 market size, thus fully rebounding from the pandemic.
Furniture industry predictions and expectations
There's no doubt that the world is in a complex economic situation. Furniture players have already felt the impact of the changing business landscape. The question is whether there's a place for optimism.
In its survey of furniture retailers attending the summer Las Vegas Market, TD Bank found that attendees remain optimistic about purchase volumes. Two-thirds of those surveyed said that furniture purchasing would increase (40.5%) or remain steady (26.45%) for 2022, despite inflation, economic uncertainty, and supply chain concerns.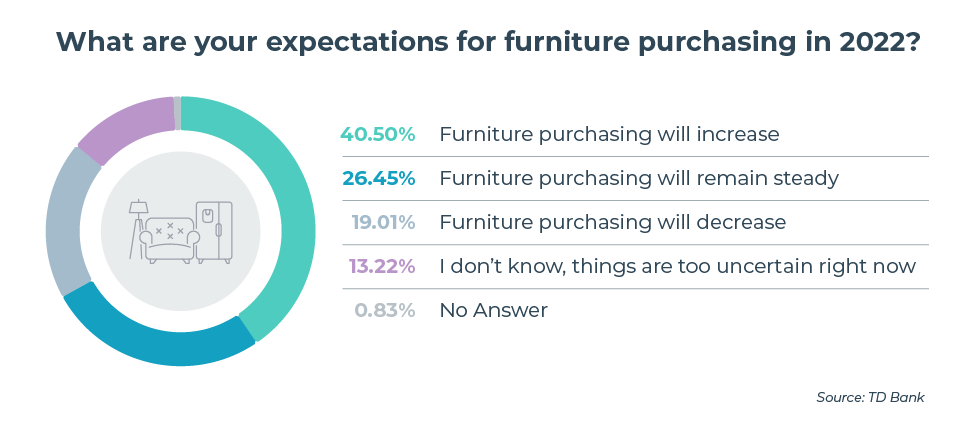 According to industry experts, one of the biggest panic triggers is the fact that furniture businesses compare their results with 2020 and 2021, which were an exception when the home became a central point in people's lives because of the lockdowns. To make realistic forecasts, businesses need to look back at 2019 and adjust for a price increase.
Another thing they need to change is their approach toward advertising and marketing. During the two pandemic years (2020–2021), there was no need to promote furniture because sales were skyrocketing. Things have changed.
"Right now, we need to get back to how we got here: advertising and marketing. Our stores need to get back out there and promote and advertise. Our vendors need to get back into the market and advertise their products and tell people what they have and get some confidence in ourselves,"
– Jerry Epperson, managing director, Mann, Armistead & Epperson, for Furniture Today
However, promoting products requires the agility to act quickly and equip both your sales reps and your e-commerce website with assets that boost customers' confidence to make a purchase. Here's where 3D product visualization comes in handy.
The luxury Canadian brand Monte understood the importance of promoting new styles and colors quickly, and they introduced a 3D product visualization which made new product launches much easier.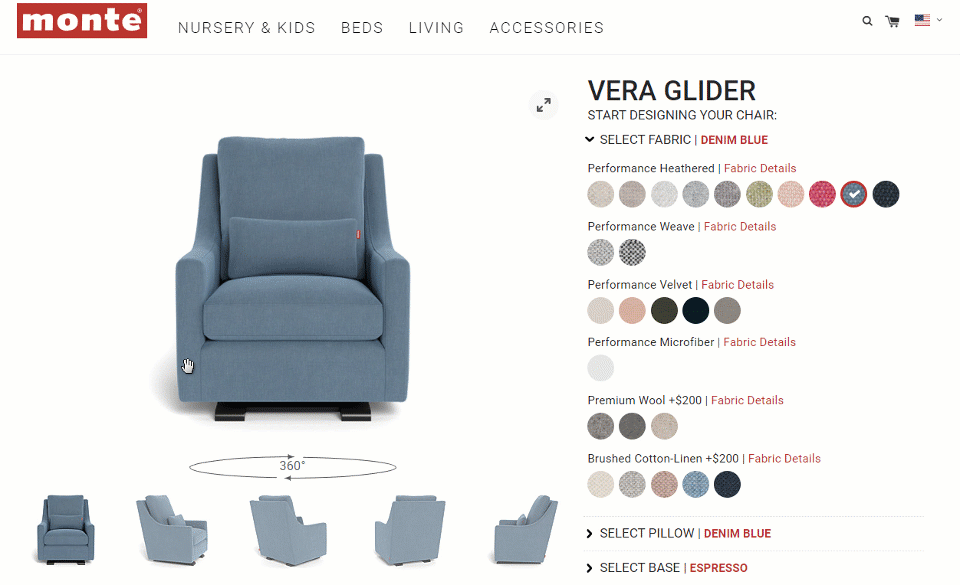 "We partnered with a 3D product visualization partner right when COVID-19 hit, in times of large uncertainty, which has proved to be the right decision. With the amount of personal customization available with our line, having a 3D product visualization partner in our corner enables us to move quickly with new styles and colors and offer them to market in a much faster timeframe. The features we require at scale are extremely time-consuming using traditional photography."
– Ralph Montemurro, CEO and Founder, Monte Design
How to prepare for 2023 and beyond
The news about the macroeconomic outlook continues to dominate the headlines. And while some businesses are waiting on the sidelines, others are moving decisively and quickly to develop a response.
Companies are already expanding their horizons to capture future growth opportunities, with the understanding that bold steps now can increase the potential to lead in the future.
According to EY CEO Imperative Series, investing in digital transformation is one of the top priorities for businesses across the globe. Almost half of the CEOs (47%) see technology as key to customer engagement and maintaining or improving margin.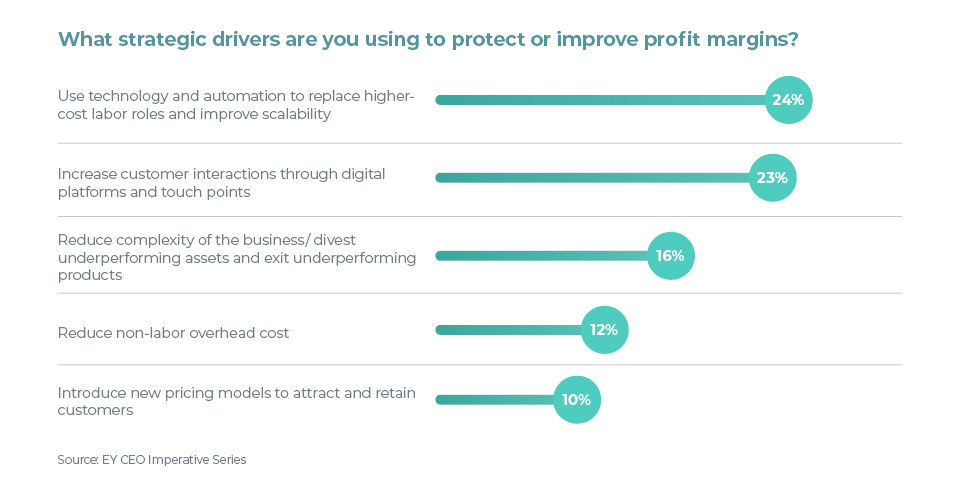 We took a closer look at the developments in the furniture industry to understand what leading furniture companies are doing now to prepare for 2023 and beyond. Here are the takeaways:
1| Understand consumers' needs and act accordingly
The renowned furniture brand Flexsteel is launching a new furniture brand with a popular price point. Their new brand Charisma is a response to inflationary pressures on consumers and the need for lower price points.
"Like other companies — we have been very focused on cost management but more on getting closer to our customers and providing compelling new products at lower price points. We have launched a new brand called Charisma which is new from the bottom up and has been well received by our customers and will be on full display in our showroom."
– Mike McClafin, CIO at Flexsteel
Besides this, the brand remains focused on an unparalleled customer and product experience using the power of 3D product visualization and augmented reality.
2| Redefine the furniture e-commerce experience using the power of technology
The rapid digitization of commerce has completely transformed customers' expectations. To cater to their needs, retailers are improving the e-commerce experience to meet customers where they are.
The British furniture retailer Sofa Club puts style-savvy customers and their needs at the center of the business. The way people shop for furniture has changed. Sofa Club transformed its business to deliver a seamless shopping experience.
"For most people, buying a sofa is going to be one of the biggest investments of their year; this is something they will be living with for years to come. Historically, a large percentage of consumers want to touch and feel a sofa in person before committing to the purchase online; however, we have seen this behavior shift dramatically post-COVID. Our focus is now on delivering an outstanding online experience with our products and providing the customer with enough information, content, and technology that gives them the same level of confidence as seeing it in real life. Social proof has also become more important than ever, and we are working hard to ensure potential customers are aware of feedback from existing customers through reviews and user-generated content."
– Louis Rose, Founder, Sofa Club
3| Prepare for the era of 3D commerce
Furniture retailers have finally realized that there's no room for legacy website experiences and platforms never designed with our digital age in mind. Retailers will need to move beyond the current 2D focus of e-commerce to prepare for a more social and immersive future of shopping.
The British heritage furniture retailer Heal's has been at the forefront of design for over 200 years. Known for being a trendsetter, Heal's is still on the cutting edge of innovation, implementing a 3D technology that will futureproof its business for the years to come.
"As a true multichannel brand, Heal's takes customer loyalty and engagement very seriously and remains committed to providing customers with the best possible experience. In the year ahead, our efforts are focused on continuing this shift, bringing the brand even closer to the customer in all our channels, and we see 3D technology playing a key role in helping us achieve that."
– Julian Baker, Head of Customer Experience, Heal's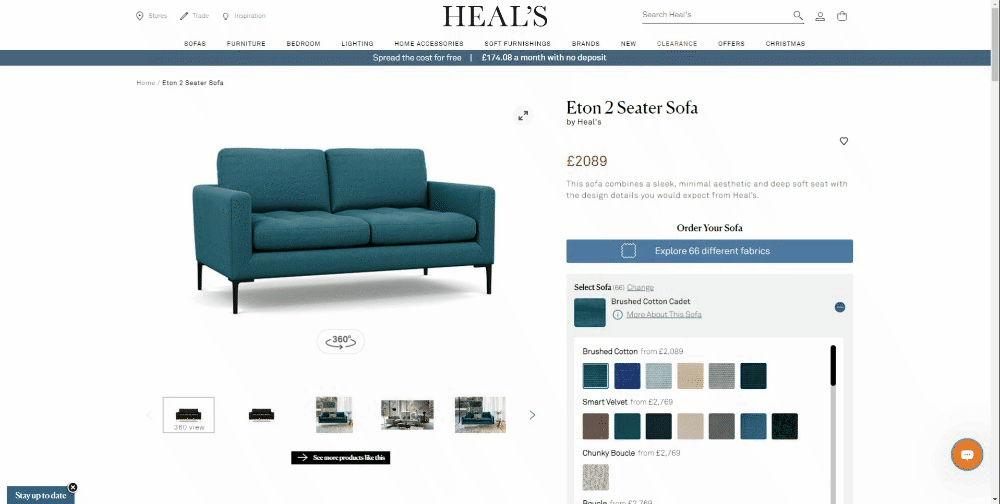 Earlier this year, Google introduced 3D visuals of home goods to its search function. The results show that shoppers engage with 3D images almost 50% more than static ones. Moving forward, 3D product visualization will become the norm across industries.
4| Build a diversified supply chain
Widespread supply chain disruptions throughout 2021 have delayed sales and increased manufacturing costs, at the same time causing customer disappointments. As a result, companies started to pursue multiple strategies to combat future supply disruptions, including multisourcing and changes in regional sourcing.
Chief financial officers (CFOs) responding to Gartner's survey indicated they expect that diversification of sources and sourcing from North America will significantly increase within the next three years.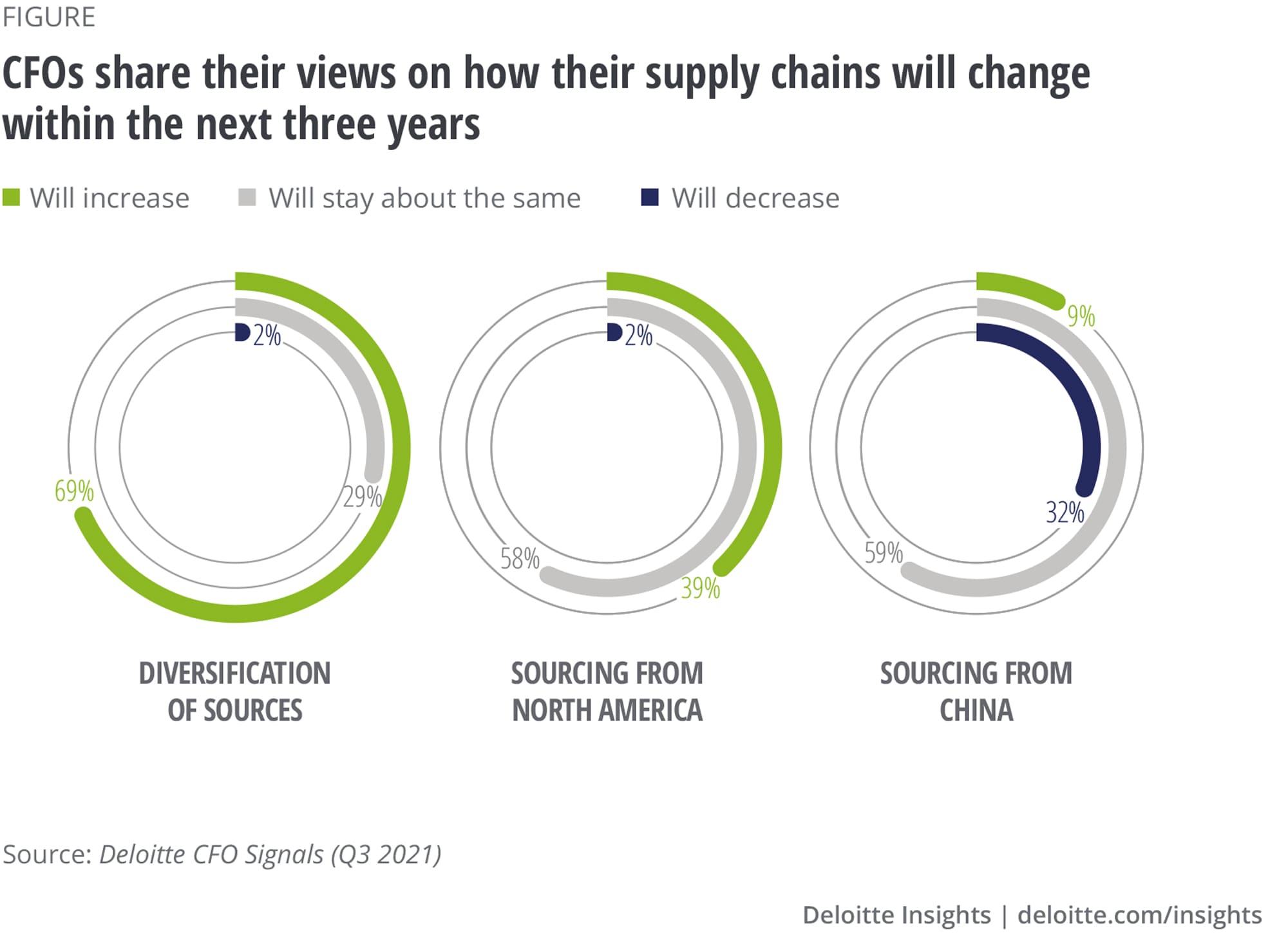 This turned out to be true for the furniture industry as we witnessed an increase in the number of companies looking to build or expand manufacturing operations in Mexico — Kuka Home, Innova Luxury Group, and New Classic Furniture, to name a few.
The situation is similar in Europe as well, where furniture businesses have increased the share of imports from neighboring countries to minimize transport costs and reduce delivery times.
5| Invest in experiential retail
The unprecedented boom in furniture e-commerce sales forced many to believe that this would be the end of physical retail. Instead, we saw some of the leading retailers expanding their physical footprint. The reason? E-commerce has transformed the role of brick and mortar.
Moving forward, physical stores will still play a critical role in pushing business objectives and commercial targets forward — but this time, with a spin — the store will become the hallmark of experiential retail.
The Chicago-based furniture retailer Interior Define is amid a rapid expansion plan which started last year with a goal of having 30 new stores in place by the end of 2022. These stores are typically around 5,000 square feet or around double the size of Interior Define's older showrooms, as reported by Furniture Today.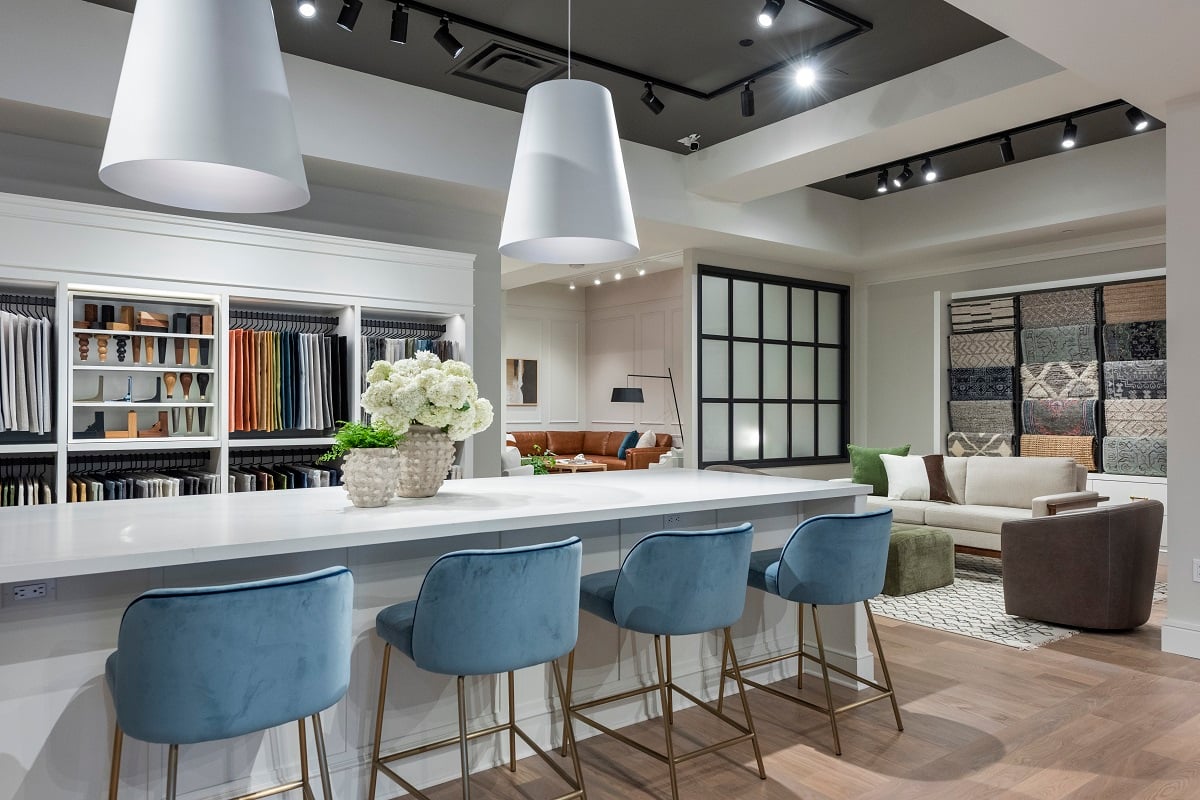 Similar to the online experience, technology plays a major role in the new Define Studios by allowing customers to get 360-degree product views, see fabric combinations, and watch product videos while working directly with design experts in-store.
Ready to reinvent your furniture business?
The consumer shift toward e-commerce has opened the door for a long-overdue great retail reset and digital transformation with the ultimate goal of creating a seamless omnichannel shopping experience.
Thriving in this new furniture e-commerce landscape will require unique insight and action. It's vital for furniture businesses to understand what consumers expect when shopping online, their behavior changes, and their future expectations.
Investments in supply chain diversification, inventory management, 3D commerce, rich e-commerce merchandising, and the store of the future can help companies address the rapidly shifting customer priorities. This will require furniture businesses to transform their thinking and make long-term commitments, but it could also change the way they conduct business forever.